Ready to Run With Pride?!
June is Pride Month and while we might not quite be running rainbows through the streets of Dublin + beyond at the Pride Parade, this year, we can still get stepping with a little extra bounce in our stride. This year, we've designed new Run With Pride sports socks and we are over the moon to let you know that 100% of the sales from these socks will be donated to our two incredible charity partner organisations, BeLonG To and The Proud Trust. 
If you can, pop a pair of Run With Pride Socks into your cart, or choose to donate a percentage of your purchase online and help support these two vital organisations. Learn more about our charity partners, below!
---
BeLonG To Youth Services is the national organisation supporting lesbian, gay, bisexual, transgender, and intersex (LGBTI+) young people in Ireland providing a safe space + platform to advocate, campaign and provide support for LGBTI+ young people, between 14 and 23 years of age. BeLonG To offer a specialised LGBTI+ youth service with a focus on mental and sexual health, alongside drug and alcohol support.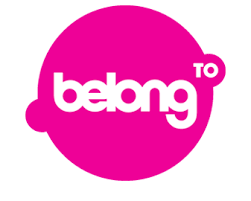 ---
The Proud Trust is a life saving and life enhancing organisation that helps LGBT+ young people empower themselves and their communities. Through youth groups, coordinating national and regional LGBT+ youth work networks, managing the LGBT+ Centre for Manchester, delivery of training, running events and campaigns, undertaking research and creating resources, The Proud Trust provides a much-needed space + platform for LGBTI+ youth in the UK.